Production of pharmaceutical packaging in accordance with GMP-WHO guidelines
Pharmaceuticals are products that are directly related to the health of the user. During the manufacturing process, the quality of the drug can be affected by many factors, including packaging. With the policy of comprehensive assurance of pharmaceutical quality, until 2007 the Ministry of Health issued 4 principles of good practice for pharmaceutical factories (GMP, GLP, GSP and GDP). However, it was not until August 31, 2012 that the Ministry of Health officially made a decision on the implementation of the GMP principle – pharmaceutical packaging. 
Concept of packaging and packaging
Packed
Packaging is a stage in the pharmaceutical manufacturing process, which involves the use of packaging materials (grade 1 packaging and level 2 packaging) to contain and wrap drugs after the preparation phase and to conveniently store and transport products to users.
The main operations in a pharmaceutical manufacturing plant are arranged as follows:
In clean areas: sampling raw materials (in warehouses of raw materials – products), weighing and distributing raw materials, dispensing and packaging level 1 (in pharmaceutical workshops).
In addition to clean areas: level 2 packaging (in pharmaceutical workshops), testing (in quality inspection department) and preservation (in raw materials warehouses – products)
Packaging
Packaging is the material components used in packaging. According to GMP guidelines, there are two groups: level 1 packaging and level 2 packaging
Grade 1 packaging: directly with medicines such as plastic or glass vials (including inner buttons), aluminum film grafts, coated aluminum film or film film.
Grade 2 packaging: indirectly with drugs such as paper boxes, paper bags or plastics, cartons, wooden barrels, …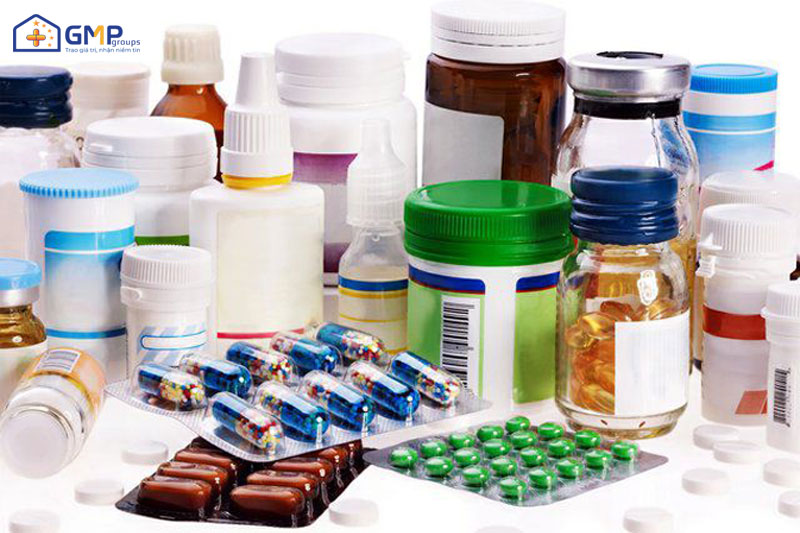 Pharmaceutical packaging
Packaging Parts
Direct contact spare parts:
Plastic button (for plastic or glass bottles)
Rubber button (for glass bottles)
Non-contact parts
Outer lid (plastic or metal)
Ice …
Băng xi …
Packaging purpose and function of packaging
Containing the drug: the packaging must not leak, do not allow the drug to diffuse or penetrate. There is mechanical endurance that is convenient for taking, storing or transporting. Do not mute, deform, corrode or leak when exposed to the drug.
Drug protection: the packaging must be able to prevent external influences: light, humidity, microorganisms
Cleanroom requirements for pharmaceutical packaging in accordance with GMP – WHO standards
Because pharmaceuticals are directly related to human health, pharmaceutical regulatory agencies internationally or in countries have strict requirements for factors affecting the production process in general and grade 1 packaging in particular:
– According to the principle of good drug production according to the World Health Organization issued by the Ministry of Health of Vietnam. "The procurement, management and inspection of raw materials for direct packaging and pre-printed packaging must be carried out as for raw materials."
– According to the Guidance of the World Health Organization on Pharmaceutical Packaging, Grade 1 Packaging (direct packaging should be tested on: sensory, attached, measuring size/volume, physical test, chemical testing, microbiological testing …
– According to the European Pharmaceutical Authority's guidance on plastic packaging materials, pharmaceutical manufacturers should be concerned about the choice and technical standards of plastic grade 1 packaging:" material vessels in the pharmaceutical development stage must prove the choice of plastic packaging: It is a response to the stability, whole parrot and non-compatibility of the active ingredient. Suitable for the use line and sterilized dialect. When formulating technical standards for plastic packaging must follow the thesis in the European Pharmacopoeia. Where the plastic is not present in the Pharmacopoeia, the basic standard may be developed based on the general treatise.
Cleanroom solutions for pharmaceutical packaging
Pharmaceutical manufacturer's solution
For chemical agents in grade 1 packaging, it is difficult for pharmaceutical manufacturers to handle themselves but must choose the right type of material and supplier. In some cases, the pharmaceutical factory can solve two agents: mechanical and microbiological by washing/coating and sterilizing grade 1 packaging.
Pharmaceutical Packaging Manufacturer's Solution
Plastic grade 1 packaging or thin film coils supplied to pharmaceutical plants under GMP-WHO can be produced by the packaging plant in accordance with the GMP-pharmaceutical packaging principle. The problem to note here is that the level of cleanliness in the pharmaceutical packaging factory will be equivalent to the level of cleanliness in the corresponding pharmaceutical manufacturing plant. In addition, the operations in pharmaceutical manufacturing plants and basic pharmaceutical packaging factories are similar and under the management of the same type of quality management system.
With many years of experience in the field of cleanroom design and construction, GMP Groups is confident to be a contractor for the construction of clean rooms of overall and comprehensive pharmaceutical packaging.
Customers wishing to CONSULT – DESIGN – CONSTRUCT CLEAN ROOMS, please contact: 
GMP Groups Joint Stock Company
Head office: Lot LK20.8, Ecoriver Eco-Investor, Hai Tan Ward, Hai Duong City, Hai Duong Province
Hotline: 0945.255.457
Website: gmpgroups.com.vn
Email: info@gmpgroups.com.vn