Standards of vaccine storage (including Covid-19 vaccines)
The wrong way to store and transport vaccines will not be guaranteed, leading to the possibility that antibody antibiotics to prevent disease will be reduced, even causing accidents. Therefore, facilities need to strictly comply with the requirements of vaccine storage such as temperature, how to store and use, refrigerators to preserve. However, good practice of vaccine preservation has standards that meet individually for each type of facility. Detailed each track standard in the GMP Groups article below.
1. GSP warehouse of vaccine import and export establishment
Vaccine import and export establishments shall be applied according to Appendix I of Circular 36/2018 on management organizations, personnel, quality systems, equipment factories, storage, import, export, processes and records of documents, returned goods and products that are recalled and self-inspected.
The requirements of the GSP warehouse include:
a.Management organization:
The facility has a full organizational structure expressed by the organizational scheme. A clear job description. The person in charge of expertise has the appropriate qualifications and experience.
b. Employee:
+ Have the appropriate level of experience;
+ Receive initial and periodic training in GSP and appropriate preservation
+ Trained in personal hygiene and general hygiene.
+ Regular health check-ups
+ Equipped with appropriate labor protection
c. Quality system
+ There is a written regulation of quality policy and approved.
A quality system must be established to ensure that quality requirements are met.
+ There must be regulations on the detection of fake vaccines, suspected fakes, poor quality. There is a separate storage area with a special vaccine, ensuring security.
+ There must be regulations to evaluate suppliers, distribute and ensure the traceability of vaccines, each vaccine always has an accompanying profile.
d. Factory, equipment
+ Build a high, safe place, avoid adverse effects of weather, harmful animals.
+ The warehouse area is large enough to arrange areas for preservation activities as prescribed: (areas of import and export, storage, storage, pending processing, labeling,…)
+ The storage area has a clear sign, easy to clean.
+ Appropriate storage facilities and periodically calibrated and maintained (humid heat, freezing directive, specialized vaccine storage bin …)
+ Have a system to record and warn the temperature of cold storage (lights, bells / messages) in time when there is a problem. The temperature is recorded automatically continuously throughout the storage period.
+ Have a computer system connected to the internet and perform the management of vaccines and bio-products using computer software.
e. Preserve:
+ Vaccines and bio-products must be issued according to the principle: FIFO (pre-export) FEFO (expiry before first export)
+ Vaccines, special products: must be physically isolated between areas and have clear signs. Broken goods must be quickly collected and separated from the storage area.
+ Storage temperature of vaccines and bio-products: 2 to 80C. Types of VX, SP are streamlined to avoid freezing with some vaccines that are perishable due to freezing.
+ Must periodically compare actual goods and books. Avoid issuing expired goods.
Storage conditions are checked at least twice a day. Each warehouse/area must have at least one automatic temperature monitor, placed in the most likely to fluctuate location determined based on the results of the warehouse temperature uniformity assessment.
f. Import goods:
+ It is necessary to check the temperature of vaccines and bio-products during transportation before importing.
+ It is necessary to check the purchase documents, the sensory quality of the uniformity of vaccines and bio-products.
+ Intact, damaged, unsealed medicine containers are not stored. It must be stored in a separate storage area if it is not immediately cancelled.
+ Import activities must be recorded.
g. Export:
+ Only export when there is an order to export. For vaccines that are in the process of being stored, it must be allowed by the person responsible for the quality to be repository.
When using dry ice, do not let dry ice come into direct contact with the vaccine.
h. Process and document records:
+ Processes must be drafted, finalized, reviewed and approved, not changed without permission.
There must be standard operating procedures for all activities in the storage area, including the handling of expired goods.
+ Records must be recorded for all activities in the storage area, including the processing of expired goods.
i. Returns and recalled products
+ There must be a process for processing the return and recall vaccine.
+ Vaccines must be stored in accordance with temperature conditions in the reserve area, ensuring security.
+ All recalled drugs that are not of quality must be handled in accordance with the law.
+ The entire batch of vaccines returned or recalled is recorded in full.
k. Self-inspection::
+ Activities are carried out by professional and planned people, carried out independently and sisterly.
+ The results of self-inspection are recorded. make a self-inspection record.
+ Remedial action program: The remedial report needs to be approved by the leader.
2. GSP warehouse central-line vaccine preservation facility
The GSP warehouse of the central-line vaccine preservation facility applies in accordance with the principles of Appendix III of Circular 36. The principles are similar to the Import-Export GSP Warehouse. However, for the "Export and transportation" section, the establishments have the right to import drugs and raw materials for making drugs but are not entitled to exercise the right to distribute. Only export and delivery to establishments with wholesale functions of drugs and drug-making materials at drug storage warehouses and drug-making materials of the establishments. Drugs and materials for transporting pesticides must not be carried from customs warehouses to warehouses of establishments or between warehouses of establishments.
3. GSP warehouse of medical examination and treatment establishments, vaccine preservation program expanding district line
Application of annex IV principle of Circular 36. Other points compared to the GSP warehouse standards of central line preservation facilities are as follows:
a. HUMAN RESOURCES:
There is no need to be in charge of expertise, warehousekeepers have a minimum qualification of high school pharmacists, knowledge of pharmacy and preservation profession.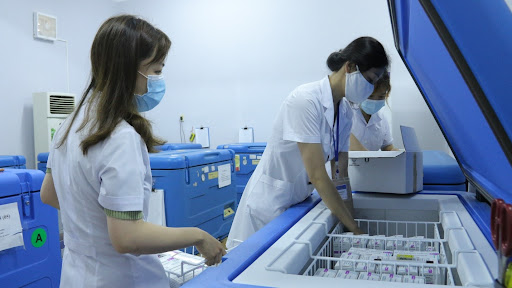 b. Factory equipment:
Warehouse area large enough to arrange areas for operations: (The layout area is less than GSP warehouse appendix I, III)
+ Access to import;
+ Storage of drugs according to special preservation requirements;
+ Storage of special control drugs
+ Pending reserves;
+ Preparation, packaging and issuance.
Warehouses usually do not require at least one temperature monitor to record their own data. Only requires at least one private temperature monitor. In the warehouse/refrigerator requires temperature control, humidity is set to write frequency 1-2 times per hour. There must be timely detection and warning (bells, lights, messages..) of a timely deviation in storage conditions.
c. Document filing process
There must be a minimum of 12 processes and records for the operation of the warehouse:
– The process of importing drugs and checking imported drugs
– The process of storing drugs in warehouses
– Procedures for checking and monitoring drug quality in warehouses
– Warehouse cleaning process
– Procedures for inspection, maintenance and maintenance of storage equipment
– Procedures for controlling termites, weevils, insects, rodents in stock
– The drug treatment process is damaged, broken
– The process of monitoring and recording storage conditions
– The attribution process
– The process of receiving and processing returned drugs
– Storage process
– The process of periodically comparing drugs in warehouses.
It is not mandatory to use computer software to manage the storage and supply of drugs.
4. GMP Groups – a provider of consulting services for GSP vaccine storage package
With extensive experience and professional team, GMP Groups is confident to bring customers a comprehensive consulting solution to build and operate GSP Standard Storage Warehouse including:
4.1. Consulting, designing factories, auxiliary systems of GSP standard storage warehouses.
GMP Groups with a team of personnel with many years of operation in pharmaceutical companies, are regularly exposed and trained in a good practice environment (GMP, GSP, GLP). In addition, the design team has many years of experience in the field of clean room design – pharmaceutical storage guaranteed to advise and design for customers in the most reasonable way between customer requirements and GSP standards.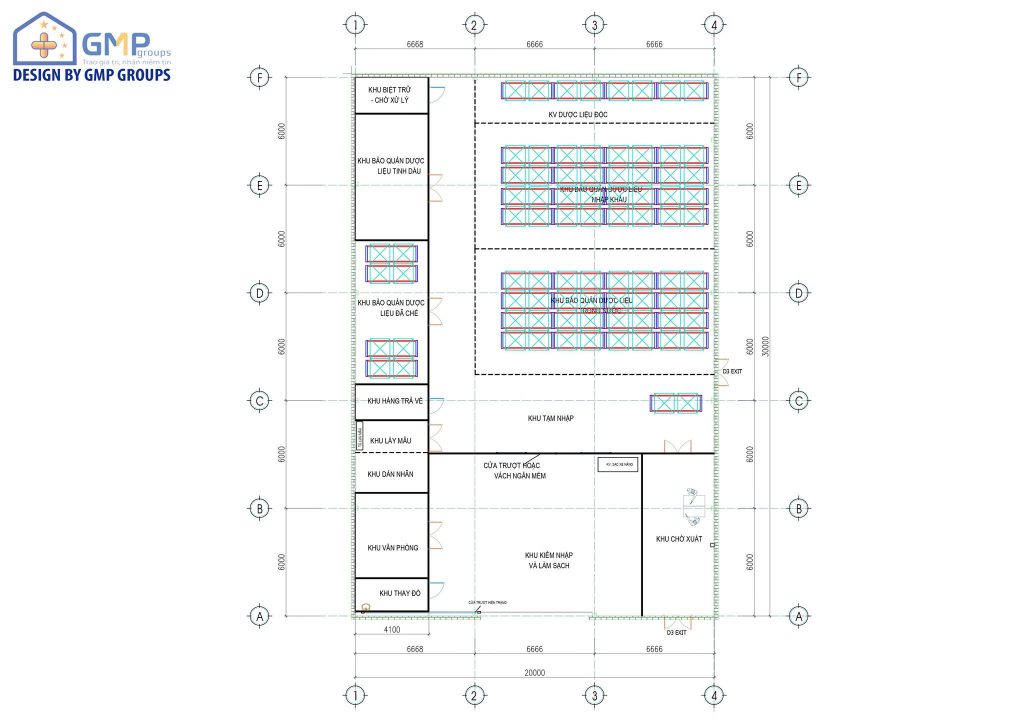 Design drawing of pharmaceutical storage warehouse for export
4.2. Construction of factories, auxiliary system of GSP standard storage warehouse
GMP Groups specializes in implementing projects to build pharmaceutical and health food factories. This includes GSP-standard storage warehouses. GMP Groups is committed to ensuring the quality of construction and construction schedule with the highest sense of responsibility.
4.3. Services to set up document records system, operation process
GMP Groups provides customers with the most streamlined and complete set of processes and documentation. Thereby, customers understand the process system, document records for GSP standard storage warehouse.
4.4. Service to prepare applications for GSP certificate
GMP Groups will assist customers in preparing applications for GSP certification. We monitor and help customers replenish documents as needed.
GMP Groups is committed to ensuring that customers obtain GSP certifications. We support customers to overcome the backlog after each inspection and maintenance of the factory during production activities, renovate the factory according to the customer's requirements.
For more information about GSP Advice – Training – Application Guide, please contact:
GMP Groups Joint Stock Company
Head office: No 273 Hoa Ban, Ecoriver Eco-Investor, Hai Tan Ward, Hai Duong City, Hai Duong Province
Hotline: 0945.255.457 – Email: info@gmpgroups.com.vn – Web: gmpgroups.com.vn