Consulting services for production equipment, testing, warehouse and electromechanical
Need for production equipment consultancy; Testing is increasingly common for pharmaceutical and cosmetic factories. Because during the appraisal process, the production equipment; Testing must meet GMP standards as a mandatory factor. In the following article, GMP Groups will introduce to readers the consulting service of production equipment and testing in accordance with GMP standards.
GMP Groups' experience in manufacturing and testing equipment consulting
The system of production and testing equipment in pharmaceutical and cosmetic factories consists of 2 parts:
– Hardware are technology lines, production equipment, practical testing equipment.
– Software is documents, device records.
As a consultancy specializing in building and evaluating pharmaceutical and cosmetic production lines, GMP Groups has experience in consulting in both segments.
Consulting services of production equipment, testing equipment and production line
Over the years, GMP Groups has advised customers on many lines and equipment. From semi-automatic devices to highly automated devices. From simple to complex production lines. 
The following are a few technology lines, GMP Groups production equipment has advised:
– Production line of tablets, effervescent nuicules: Crusher; high-speed mixer, boiling floor drying; cube mixer, rockin; sealing machine, film wrapped machine, packing machine;… with automatic feeder system, inline. 
– Hard capsule production line: Crusher, mixer; static dryer, viba dryer; automatic, semi-automatic capsule closure machine; capsule wiper and polishing machine, packing machine.
– Soft capsule production line: Gelatin cooking system; gelatin tank system, drug tank; glue grinder, vacuum-sucking homogeneity mixer; soft capsule closure machine, drying cage …
– Production line of powder and water yeast: Homogeneous mixer; dispensing tank, plastic blister welding machine, yeast powder packing machine.
– Production line of emulsion and mixture drugs: tank system containing; vacuum emulsification machine, packing machine.
– Syrup production line, eastern pharmacy: extracting pot system, open pot; Circulatory Her Extraction System , Packing Machinery
In addition, we also advise other production lines; advising on changes, upgrading current machinery, increasing production productivity.
Consulting and support services for the implementation of documents and equipment records
In fact, manufacturers and suppliers of equipment often pay little attention to the document; equipment profile. This will make it difficult for investors to build factories according to GMP standards. With many years of experience in pharmaceutical factory construction projects in accordance with GMP standards, GMP Groups provides customers with consulting services, support in the preparation of outlines and equipment records according to GMP standards including:
– Manuals, standard operating procedures.
– Documents describing the function, description of the design of the machine, FAT acceptance documents, SAT
– DQ, IQ, OQ, PQ assessment records.
– The latest regulations and documents on production standards in the field of pharmaceuticals and health-protecting foods.
Benefits of customers using GMP Groups' equipment consulting services
GMP Groups is a leader in providing a 'turnkey solution', a turnkey solution for customers. We have overall solutions from the planning consultancy stage; design of clean room; equipment consulting. That helps to provide customers with synchronous, accurate products in a short time.
With a team of experienced professionals, we support customers to choose scientific and optimal technology and production processes, in accordance with GMP standards; together with customers thoroughly analyze manufacturers, suppliers and equipment specifications so that customers can buy the right equipment.
We have the capacity to advise and carry out the records of the equipment including IQ, DQ, OQ, PQ, operations, maintenance and other profile documents.
The selection of optimal and reasonable technological processes and production equipment; Adequate and scientific equipment profiles are core elements for the production of high-quality products; clear and accurate production process; increase production productivity as well as minimize costs and risks in the production process. 
With its experience, GMP Groups deeply understands the difficulties that investors face in the planning process; design and construction of factories, selection of technological processes, production machinery. We are committed to always accompanying investors, giving the best advice to build projects of high standards, suitable to the needs of customers with reasonable costs. 
GMP Groups' outstanding production and testing equipment consultancy project
The Dolexphar health food factory meeting HS-GMP standards is a typical project. GMP Groups advises, designs and constructs cleanrooms; consulting technology lines, production equipment. Effervescent tablet production line with an output of nearly 100,000 tablets per hour. The line includes blender; high-speed mixer, boiling floor drying; static dryer, finished mixing; ZP27 sealing machine, silicagel sealing machine into the lid,… Well-advised machines should operate stably; compatible with each other and optimized production productivity. The water yeast line is equipped with a mixing tank system and a high-speed plastic blister welding machine for a yield of 500 ceramic tubes per hour. 
In addition, the project also has a line of eastern syrup; The synchronous soft capsule line of suppliers from China, Korea is also operating with maximum productivity to provide high quality products to the market.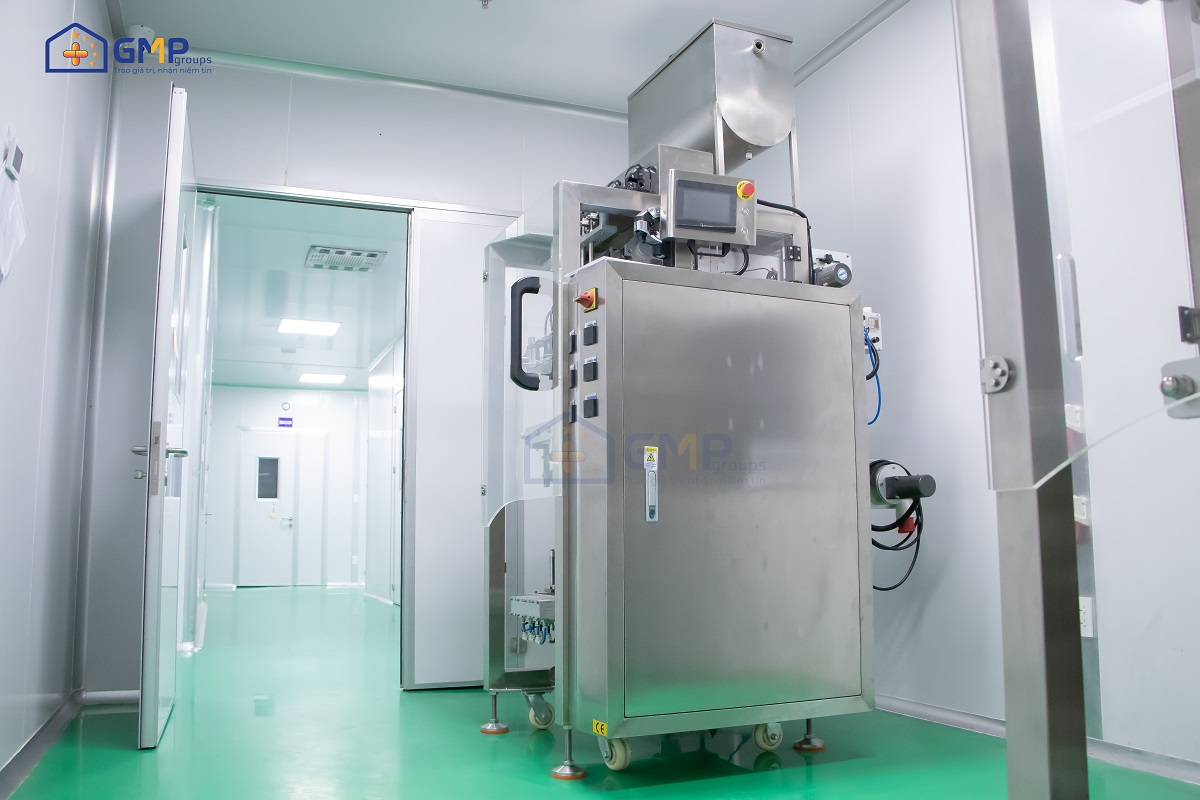 Dolexphar – GMP Groups Production and Testing Equipment Consultancy Project
The above is information about the production and testing equipment consulting service for the cleanroom of GMP Groups. The selection of a reputable, experienced unit is the decision to the success of the factory appraisal process. 
For more information about manufacturing equipment and testing, please contact:
GMP Groups Joint Stock Company
Head office: Lot LK20.8, Ecoriver Eco-Investor, Hai Tan Ward, Hai Duong City, Hai Duong Province
Hotline: 0945.255.457
Website: gmpgroups.com.vn
Email: info@gmpgroups.com.vn